Lone Fir Cemetary
in SE Portland. They only do this tour the second Saturday of the month. It is the oldest cemetary in the city, and much to our delight, very rich in history. We had been trying to go for like almost a year but just kept forgetting or couldn't make it happen, but man am I glad we went.
I would say since that outing, I have become mildly obsessed and fascinated with the stories of the people that are buried there and Oregon history itself.
It is just amazing when you think about it. Well...American history in general, it isn't THAT old! If you compare it to European standards. I mean...it's pretty amazing to go inside Westminster Abbey and find a throne that has held up since 1506. The weight of that can be mind bogglingly (is that a word?) dense.
It's quite another to find such rich history in your own back yard.
It has inspired me to look up old photos of Portland in it's infancy and imagine what it must have been like to live here in that time (the cemetary's first burial took place in 1846, but didn't become an official cemetary until 1855). No doubt life then would have been HARD, but also simpler in a way. Many of the people buried there were pioneers of the Oregon Trail. It is heart-breaking to read about. They estimated between 8,000 - 16,000 perished during the Oregon-California migration. Much of them children. It's difficult to wrap ones mind around the hardship faced just trying to GET here, let alone land claims and once acquired, working your land. These people paved the way for us and made it possible to enjoy the conveniences and luxuries we so take for granted today. That alone has surely earned my respect and gratitude and I have thought long on it in recent days.
Here are a few photos I took from that day: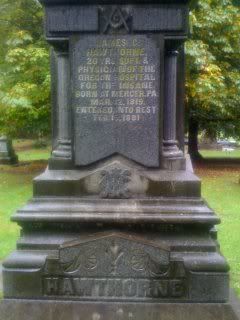 More info on James C. Hawthorne
here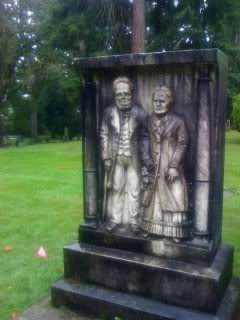 More info on J.B. and Elizabeth Stephens
here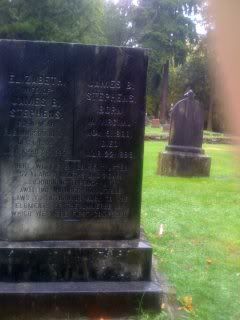 Rear of the Stephens grave stone, finger got in the way. :)
It is amazing what nature does...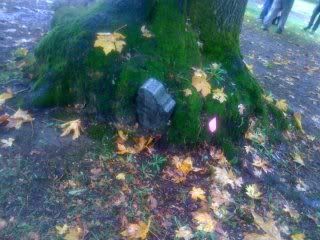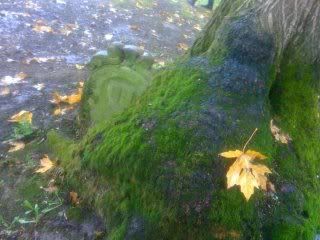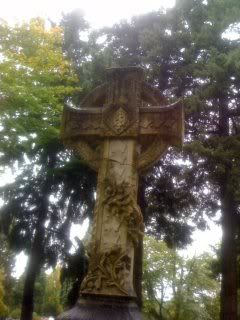 It is my hope...my wish that future generations will come to learn this history and appreciate it as much as I do. The only way we can truly learn about who we are is to go back in time.
Last Saturday morning M and I went on a historical walking tour of
Current Mood:

thankful


So...starting Wednesday of this week, I began experiencing heart palpitations. I have had my struggles with this in the past as well as with anxiety/panic attack episodes. The last few years this has all been fairly dormant, and manageable. But this week it hit me with a force greater than I can explain. Think, anvil on the chest.

They started coming in waves...these felt different. A tingly-fluttery sensation on the right side of my chest. I would touch my neck to check to see if my rhythm was at all altered and it seemed to skip a beat, but was not elevating my heart rate. I tried to get into ZoomCare but M convinced me I was probably just stressed out so I didn't go. I did make an attempt to call my GP but she didn't have any appointments available until next week.

The next day they came and went again....just tried to chalk it up to stress. Friday morning came and I tried once again to get into ZoomCare....only this time they informed me that they did not have the necessary equipment to treat heart palpitations and that I should really go to the ER and they gave me the number to Providence. Not helpful....I am in no position to afford a $500 or more hospital visit just by walking in the door.

Out of desperation, and not wanting to go through the weekend like this, I called my GP once again to see if possibly there had been a cancellation. It just so happened they had an 11:15 opening so I left work, hopped on the bus and got there.

Lucky for me, I actually had a couple of palps while the doctor was listening to my heart with the stethoscope. I asked her if she heard it and she did. She told me it was called a Premature Ventricular Contraction. She says it's common and most people do not even feel them when they occur but I'm a case where I'm extraordinarily sensitive to it (I feel them every time, lucky me!).
She decided to take some blood work and check for low iron/anemia and my thyroid. They also ran an EKG and did something called a Rhythm Strip (basically a longer version of the EKG). I didn't have any palps during the EKG but did during the rhythm strip...and you can totally see the spike on the sheet. It wasn't bad enough that I'm having to deal with this crap...but to find there could actually be an issue, was even more unsettling.

She prescribed me xanax for my anxiety (which is shooting through the roof, naturally) and that the results of my EKG and blood work would be available next week. She also gave me a referral to a cardiologist and encouraged me to investigate further. And that was it....

Needless to say I am completely and totally wigged-out by this turn of events. I know that a lot of it is stress and I need to find a better way to manage such things, but this is just off the charts for me. This has been going on for DAYS now and I'm not sure how much longer I can go on like this. Getting through the weekend is proving to be challenging (and to top it off, I have a show tomorrow night). The palps fluctuate from being tingly, to changing in intensity where it feels like your heart is trying to come out of your chest. It is extremely frightening and I fear it could lead to panic attacks (haven't had one in over three years, knock on wood). I have a feeling I will have to pop that xanax like it's candy until I can get to the source of what is going on and it is extremely addictive, so there's that, too. I'm willing to do just about anything to make this feeling go away.

I had a major melt-down today. My mom who is out of the country back in her home country of Colombia visiting my grandmother, is not really reachable by phone (she's usually my first phone call and has had some experience with this stuff), and honestly, I didn't want to worry her. So I called Monica and just lost it. She was really glad that I called and I was too...just because I felt so nuts and like I was just barely holding it together. It comes in waves. I took one and a half xanax this afternoon but my anxiety is so high right now that it's not really doing anything. I will take a couple more tonight before bedtime and hope to whomever...or whatever is out there that I can get some sleep, because lack of rest will only exacerbate the situation.

While I have been through this before....it has never been to this level and quite honestly. I'm scared. It's a very frightening feeling to not have any control over what's happening in your body. I honestly would NEVER wish this on anyone. It can be crippling and I just feel like I'm 'in it' right now.

If anyone out there has struggled with this or wants to share their experiences...this is the place to do it.
I really have no business posting this here for my friends to see. But drastic times call for drastic measures....
Current Mood:

scared
If you are in Portland July 3rd....please come to this show. It's my first show playing with these guys so I need your support!! And please support Kleveland and the fabulously fantastic super group The Prids!! Oh yeah...and Berlin is playing. Yes...THAT one. :)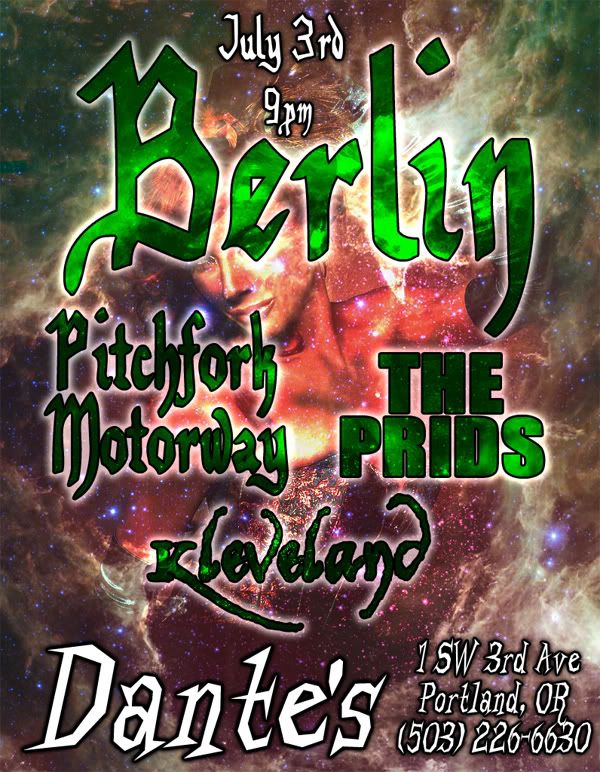 ....but sadly this is only for promotional purposes. I will update soon. i swear!!
Current Mood:

nervous
OnLy on SatUrdaYS!!!!
DISOUNT PASSES CAN BE FOUND IN THE LA WEEKLY & BELOW!
no passes accepted for special events


Dredged up from the sewers of the LA underground Frankenstein has emerged as the
most talked-about, bone-crunching, gut-wrenching, flabbergasting band of our time!

With a band roster that reads like a punk/deathrock who's-who with line-ups to include alumni from Christian Death, The Rotters, Kommunity FK, Bloodflag & Voodoo Church ...

just to name a few!




A very special one-night return of Dj Wednesday and a blast from SinisTer's Past SpeciaL Guest Dj BAT spinning with Dj Tommy!
Don't Forget we WELCOME song suggestions every week!!

Rotating YouR FaVoriTe Alternative~Gothic~iNdusTrial Rock!




MC~Host Constance takes you on the Dark Journey

$5 Before 11PM with flyer

Click here for $5 discount flyer


Lower Drink Prices

$4 & $5beers, $6 well drinks!

Always our Devil's Dame's Taunt n' Teez from above the dance floor!

PurgaTory Pleasures Mistress Melissa, Master Paul, Jordan

Hot~Shots taken by TiM SiN & Featured photog Alexandra Gibson

Weekly vendors Yxtabay, Lair of Wolf & Moon & Hillary's Party Pleasures

along with Tarot Card Readings by Victoria!

Be There!!!




http://www. barsinister. net
http://www. myspace. com/barsinister
http://www. myspace. com/purgatoryatbarsinister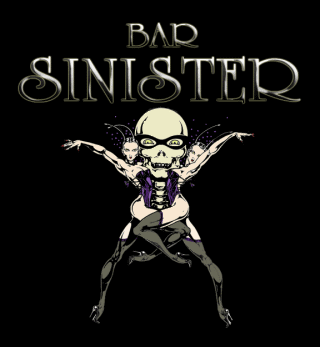 down the candle-lit alley @
1652 n cherokee avenue
(next door 2 the famous steve boardner's)
in hollywood, california
just south of hollywood blvd and three blocks east of highland
Valet Parking: $10 for club!

The HollYwood Dark DecaDence for AlternatiVe PleaSurez...
Current Mood:

bouncy

In fact, I am told that a lot
Now I know all the wrong turns, the stumbles and falls
Brought me here

And where was I before the day
That I first saw your lovely face?
Now I see it everyday
And I know

That I am
I am
I am
The luckiest

What if I'd been born fifty years before you
In a house on a street where you lived?
Maybe I'd be outside as you passed on your bike
Would I know?

And in a white sea of eyes
I see one pair that I recognize
And I know

That I am
I am
I am
The luckiest

I love you more than I have ever found a way to say to you

Next door there's an old man who lived to his nineties
And one day passed away in his sleep
And his wife; she stayed for a couple of days
And passed away

I'm sorry, I know that's a strange way to tell you that I know we belong
That I know

That I am
I am
I am
The luckiest


Happy Valentine's Day Margaret
I don't get many things right the first time
Current Mood:

loved